[Originally published in OC Independent on February 4, 2022]
A long-time progressive Democrat activist has filed a lawsuit alleging Orange County Board of Education violated state law when it appointed Tim Shaw to fill the vacancy representing the 4th District on the board. The lawsuit alleges the appointment violates
Section 1752 of the state Government Code
stating "no person elected or appointed to the governing body of any city, county, or district having an elected governing body, shall be appointed to fill any vacancy on that governing body during the term for which he or she was elected or appointed." The plaintiff, Michael Sean Wright, is asking the court to declare the appointment illegal, vacate the seat and force a special election to fill it. Wright is being represented by
trial lawyer
Lee Fink, a long-time
California Democratic Party official
who
ran unsuccessfully for Tustin City Council
in 2020. "Democracy is about the rule of law.  I filed this lawsuit to ensure that the Orange County Board of Education follows the law," Wright claimed in a press release issued by Fink. "These are the same kind of progressive activists who claim they're fighting for 'our democracy' while ignoring the voters of the 4th District who elected me, fair and square, in 2020," said Shaw. "They only seem to care about protecting elections when they win them."
Shaw Blasts Lawsuit As Baseless, Partisan Politics
Shaw blasted the lawsuit as baseless and petty partisan politics, noting that the language of the law specifies the governing bodies of counties, cities and districts – not school boards. "The Orange County Board of Education is none of those things," said Shaw. He also decried Wright's attempt to force a sudden special election. "It's February 3, and there are already three Board of Education seats on the ballot on June 7," commented Shaw. "And these partisan activists want to squeeze an expensive special election before then? It's absurd." Greg Rolen, counsel for the Orange County Board of Education, dismissed the lawsuit as a "Hail Mary." "We are deeply disappointed that Trustee Shaw's political opponents are resorting to another media stunt to overturn his election," Rolen told the OC Independent. "Trustee Shaw won the seat. Whether it is a specious  incompatible office suit designed to make him spend his family's resources, or an equally specious challenge to his appointment, opponents of parental rights will keep resorting to the courts to overturn the will of the voters," said Rolen. "It will not work. This is what we call a 'leap,' to a 'Hail Mary'." When asked, Fink rejected the contention that code Section 1752 doesn't apply to school boards. "There are more than 70 elected boards, including school district boards, water district boards, and city councils," said Fink. "The idea that only one—the Orange County Board of Education—is exempt from the law is absurd." "Section 1752 codifies long-standing prohibitions against such appointments, and of course applies to cities, counties, and districts—including school districts—in line with numerous other provisions of the Government Code," said Fink. "We are confident that a court will see through a transparent attempt by the Board of Education to avoid the state law." The Orange County Board of Education is not school district. When asked who was funding Wright's lawsuit, or if he was representing it on a pro bono basis, Fink replied, "We do not comment on financial arrangements with our client."
Board Vacancy Originated From Lawsuit Connected To Political Opponent of Shaw
That vacancy was created when Shaw – a Republican who was then serving on both the La Habra City Council and the OCBE – resigned to avoid the tremendous expense of fighting a lawsuit alleging he was violating a state law against holding "incompatible offices." The lawsuit was filed by a close friend of Paulette Chaffee – the wife of Democrat Supervisor Doug Chaffee – whom Shaw had beaten in the June 2020 election for the OCBE. The lawsuit was never resolved and the question of whether the two offices are actually incompatible was never adjudicated. Chaffee is considered likely to run for the 4th District seat on the OC Board of Education if Wright's lawsuit succeeds. OC Board of Education member Becky Gomez is in the same situation: she is also an elected member of the Tustin City Council and plans to run for mayor this year. No one has yet filed an incompatible offices lawsuit against Gomez, a Democrat.
Plaintiff Works For Advocacy Group Funded By Rich Donor Who Ran For OC Board of Education
The plaintiff in the lawsuit, Michael Sean Wright, is a dedicated progressive-Left political activist who is a familiar face at Democratic Party events and progressive rallies, marches, and protests.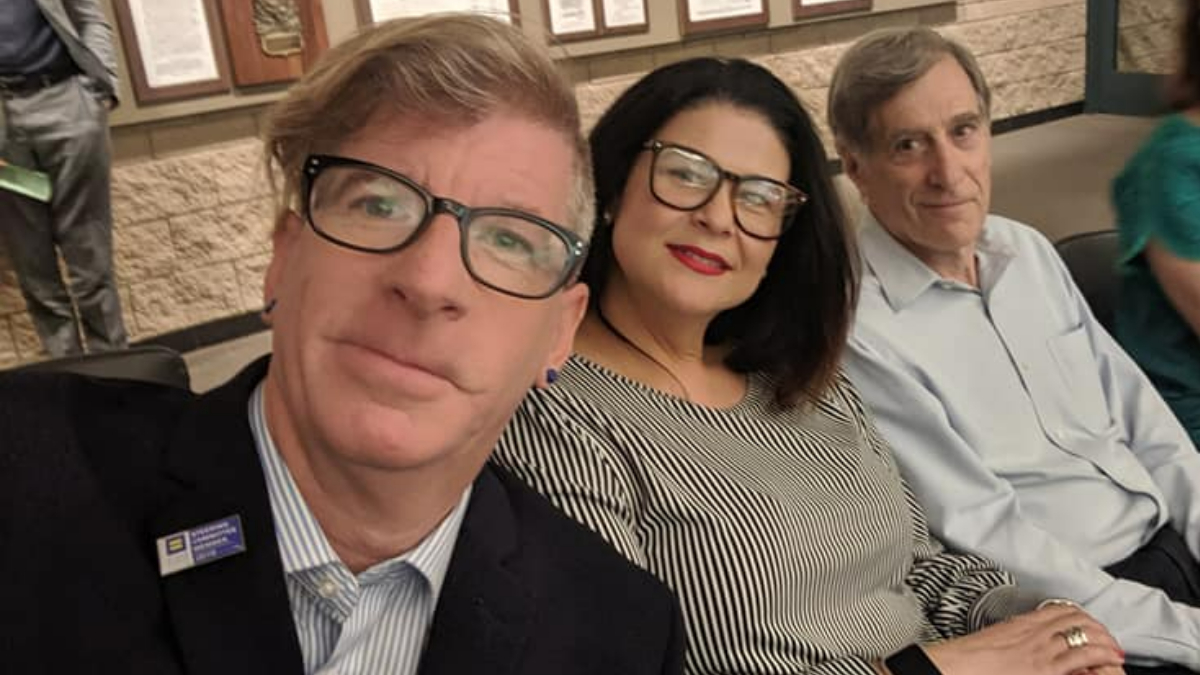 Wright is the executive director (and apparently sole employee) of the Contemporary Policy Institute, a
non-profit funded by Andy Thorburn
– a wealthy executive and progressive activist who has unsuccessfully run for several elected offices – including the Orange County Board of Education in 2020.
Among other things, the CPI serves as a vehicle for Thorburn to advocate for mask and vaccine mandates as anti-COVID measures.
In the above video
, Thorburn opines:
"There's a lot of resistance to mandates. Mask mandates. Vaccine mandates. They bring out protesters – as if mandates were some new idea imposed on the population by an autocratic government. In fact, mandates have been around for a long time, and mandates are the very essence of a stable, orderly, safe society. We need mandates to maintain more freedom for society as a whole."
The CPI website
contains little other than a giant photo of Thorburn reading to children, left over from his OC Board of Education campaign. The CPI website lists its address as 2400 E. Katella Avenue, Suite 821, Anaheim CA. It turns out to be a tiny office in a WeWorks-type shared office space. There is no identifying signage nor any indication it is used: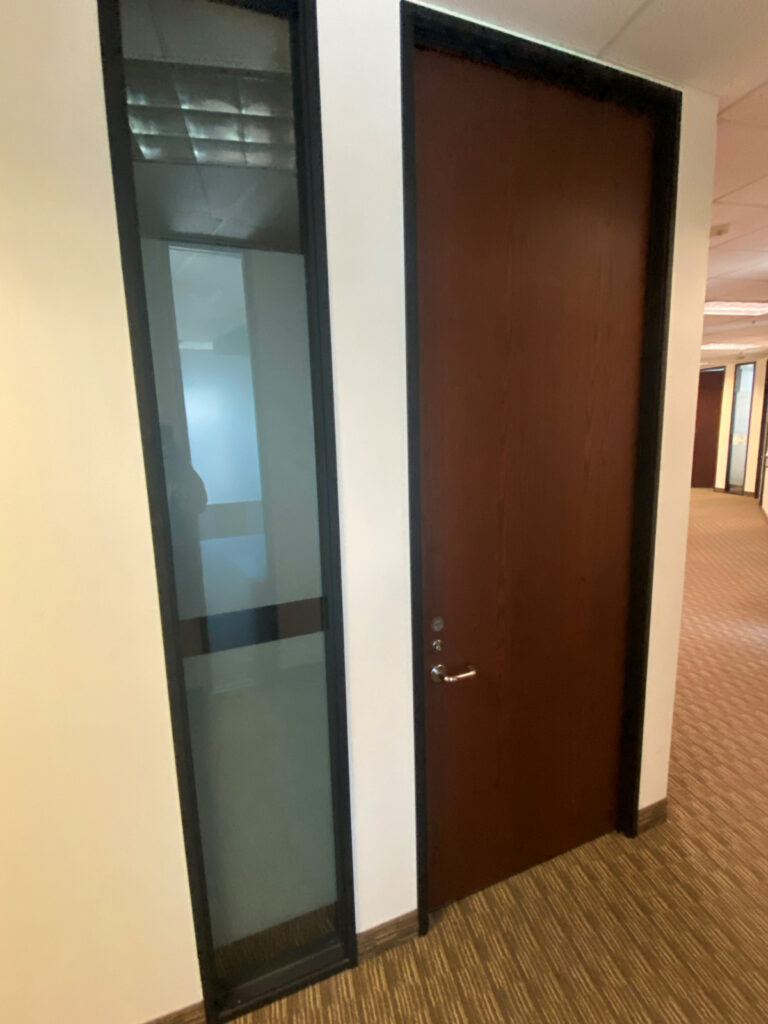 Wright's lawsuit is clearly aimed at altering the balance of power on the Orange County Board of Education – which is a top priority of teacher union-aligned interests in the Democratic Party. Wright's lawyer is a long-time state Democratic Party official. His prodigious progressive political background and his direct financial connection to a wealthy former candidate for the OC Board of Education are readily accessible and easily discovered. The partisan earmarks of this litigation are unmistakable. And yet none of it has merited even passing mention in mainstream coverage by the OC Register and the Voice of OC – as if Wright's litigation were merely good-government do-goodism, unconnected to a political agenda.