Former Orange County Supervisor Bill Steiner passed away yesterday at the age of 85. He was a beloved figure with a huge heart and friend to many who impacted countless lives, especially through his work helping abused and neglected children.
He is survived by his five children and 12 grandchildren, to whom he was devoted, and was expecting the arrival of his first great-grandchild at the time of his passing.
He is the second former Orange County Supervisor to pass away in recent days: former Supervisor Cynthia Coad passed away on November 26.
Steiner forged a long career in social work and public service. HE was elected to the Orange Unified School District Board of Education in 1983, a post in which he served until his appointment in 1988 to fill a vacancy on the Orange City Council.
Steiner ran for the 67th Assembly District in a 1991 special election, but was defeated in a hard fought campaign by Mickey Conroy. In typical Steiner fashion, he and Conroy forged a close friendship in the aftermath of that contest.
In February of1993, scandal induced Don Roth to resign his seat on the Orange County Board of Supervisors representing the 4th District. Gov. Pete Wilson appointed Steiner to fill the vacancy the following month, and he was elected to a full four-year term in 1994.
Altruism and concern for others formed the heart of Steiner's life of service. He earned a criminology degree from UC Berkeley and a master's degree in social work from the University of Southern California.
As a young man, he started the Good Samaritan Boys home, which ultimately grew to numerous group homes across Southern California.
He was director of the Albert Sitton Home for Children for eight years. He spearheaded the creation of the Orangewood Children's Home (which replaced the Sitton Home), raising millions to establish the 170-bed shelter for abused and neglected children. He served as its executive director until resigning in 1986 to take the reins of the Orangewood Foundation. During his time at both Orangewood and Sitton, he was responsible for sheltering and caring for thousands of abused and neglected children.
The late Juvenile Court Judge Betty Lou Lamoreaux told the Los Angeles Times at the time: "Bill is truly amazing. There are more than 150 kids at Orangewood on any given day, and Bill knows just about every one of their names."
The circumstances of Steiner's death are unclear, although he was apparently traveling to New York City to visit one of his grandchildren.
He was also devoted to the community known as the City of Orange, and a dedicated member of the Orange Rotary Club, another manifestation of his credo of service to others.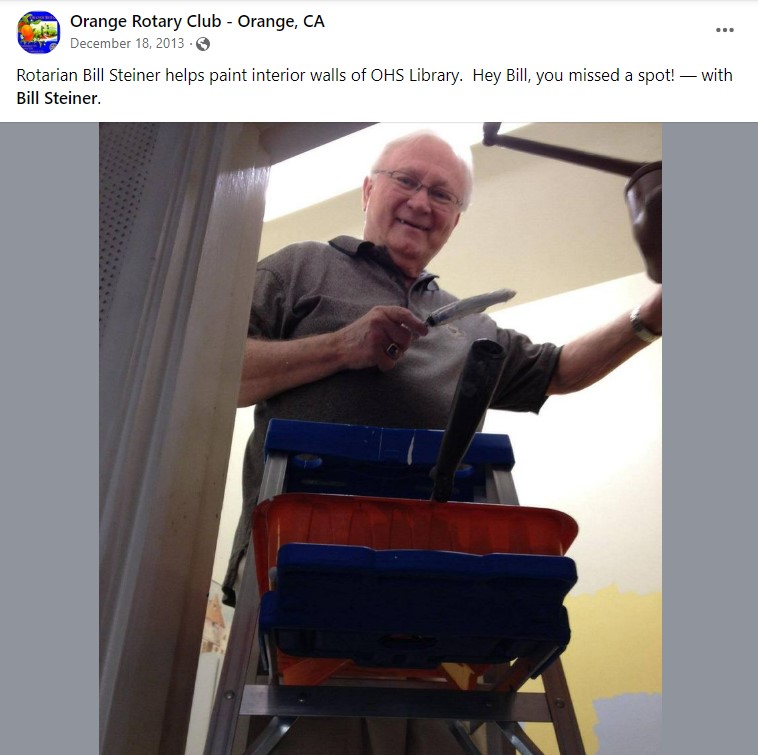 He could be seen every Saturday morning at Watson's Drug Store where he and fellow members of the "Saturday Chowder Group gathered to fun and fellowship: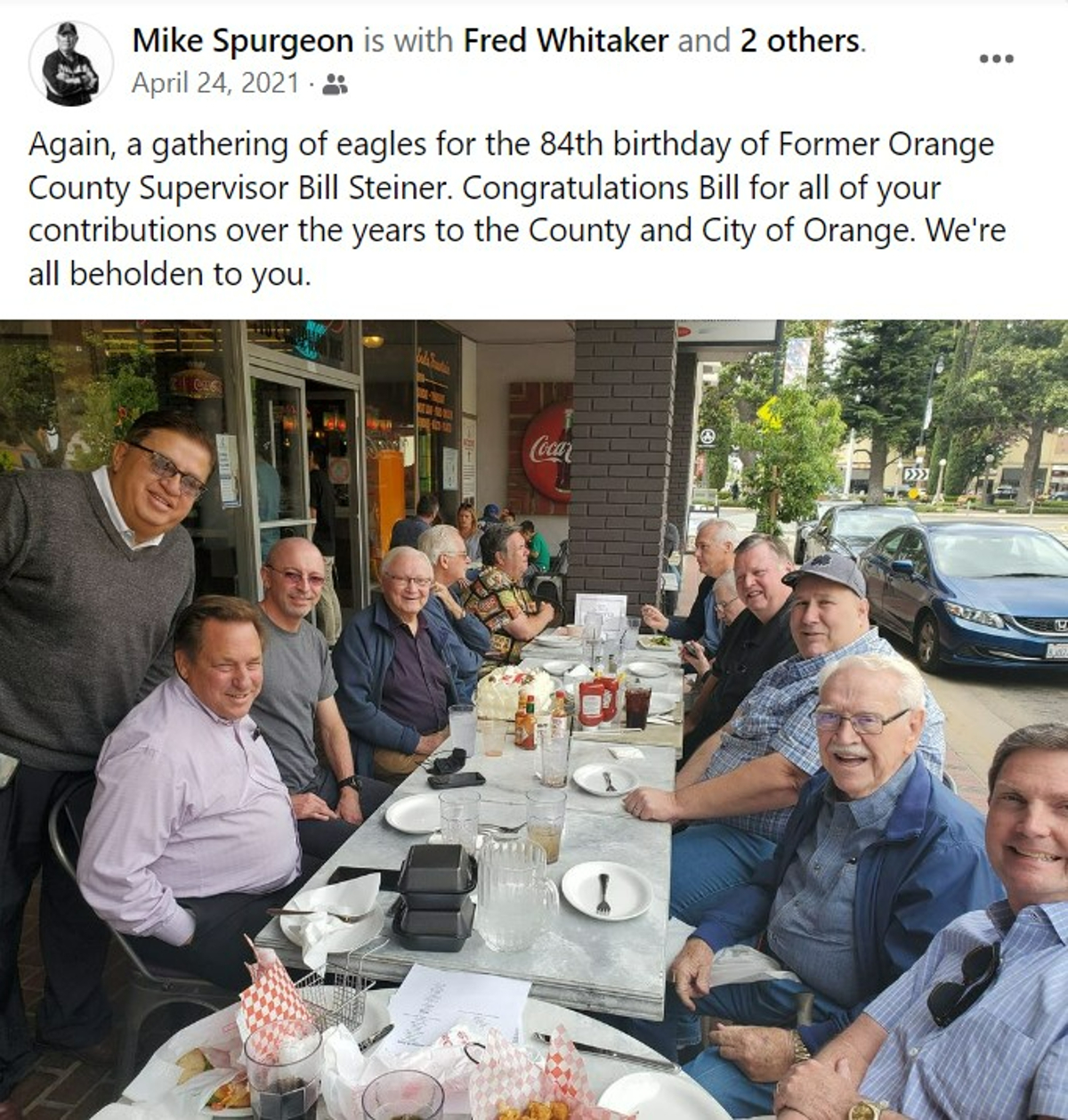 Word of his passing spread rapidly Thursday night through Steiner's vast network of friends, the universal reaction to which was stunned sadness at the passing of a man who was active until the end.
"It is typical to refer to someone like Bill Steiner as a gentleman," said former Orange County Supervisor Bill Campbell. "Bill was a true, gentle person. His focus was always outward, and about how could he help someone else."
"He will be truly missed," said Campbell.
Orange County District Attorney Todd Spitzer served with Steiner on the Board of Supervisor, and paid tribute to his friend.
"Bill was a great mentor," said Spitzer. "He took me under his wing in 1997 when I arrived at the Board."
"He wanted everyone to do well and he cared deeply about the County," said Spitzer. "He goes down in the history books as one of the major hitters who carried the team."
"Bill represented the best of public service," said OC Republican Party Chairman Fred Whitaker, a former Orange City Councilman. "Even if he disagreed, he was never disagreeable. He truly cared about the people he served."
"It was such a pleasure to be his friend. His love for family and friends was unparalleled. He loved talking to and hearing about my son Jack," said Whitaker. "Promoting the next generation was his life's work. We will miss him on Saturday's but he we know he'll be with us in spirit."
On a personal note, this writer was proud and honored to call Bill a friend for many years, and had the privilege of serving with him on the Orange Planning Commission. He was humble in the best and truest sense of the word. He was the soul of service and a model of compassion. His passing leaves an awful hole and, as they say, we shall not see his like again.
Requiescat in pacem, Bill Steiner.