After hearing from a throng of family-owned, independent hotels warning a drastic, union-sponsored work rules and wage spike initiative poses a mortal threat to their businesses, the Anaheim City Council voted to order a study focused on how ballot measure would impact public services – which are heavily dependent upon tax revenues from Anaheim hotels.
Mayor Pro Tem Natalie Rubalcava and Councilmembers Jose Diaz, Natalie Meeks, Norma Campos Kurtz, and Steve Faessel voted for the economic study, which will be presented at the June 13 council meeting – at which the council will decide on whether to hold a special election or place the initiative on the November 2024 ballot.
Mayor Ashleigh Aitken and Councilman Carlos Leon voted to immediately adopt the initiative – sponsored by the hotel workers union UNITE-HERE Local 11 – without studying how it would impact city finances or Anaheim hotels and event centers.
The main provisions of this Los Angeles-style ballot measure are work rules dramatically reducing the number of hotel rooms a housekeeper may clean during an eight-hour shift while increasing their average minimum hourly wage by 60% to $25. It establishes a low threshold, measured in square feet, of how many rooms a housekeeper may clean during an eight-hour shift before their hourly wage is doubled to $50 for the entire eight-hour shift. It also imposes other complicated rules, like requiring housekeepers to be paid $50 an hour if they clean rooms on two different floors.
Any hotel or event center employees would be able to sue their employees over alleged violations, and Anaheim city manager's office would be given responsibility for policing these and other work rule provisions in every hotel (there are more than 130 in Anaheim) and event center in the city.
The measure's definition of event center includes the Anaheim Convention Center, Angel Stadium, and the Honda Center — all owned by the city.
Most Anaheim hotels are independently owned and operated by family businesses, often for several generations. Those families showed up in force with warnings that the UNITE-HERE initiative poses a mortal threat to their hotels and asked the council to commission an economic impact study so the city council and Anaheim voters have a clearer idea of the costs the initiative would impose.
"This hotel has been in my family for coming on 50 years," said Brandon Garr, who with his wife and sister owns and operates the Grand Legacy Hotel. "My mother and father bought this property in 1974. My mom ran housekeeping, my sister worked in housekeeping, my brother worked in maintenance, and my father ran the front desk and the rest of the organization."
Most of their employees have worked for them more than 10 years, and a number for several decades, said Garr, noting they all are enrolled in health insurance and a 401k program.
"I think it is fair to say because they are treated with kindness and like family, we take great pride in being able to help support them and their families," said Garr, cautioning the council that the UNITE-HERE initiative would "dismantle" their family-owned hotel, increasing wages up to 50% and tripling their housekeeping costs.
"This is financially unsustainable," said Garr.
"My parents bought a small hotel in 1995," said Amil Patel, saying he and his sister grew up in the back offices of the hotel, helping his parents with the operation.
"Our employees are our family. We treat them with respect. We invite them to come to our family events. We host their family events," said Patel. "We want to continue to protect our employees. We want to see them succeed."
The Badalian family has operated two hotels, the Tropicana and Camelot hotels, for decades. An emotional Suren Badalian spoke about his 98-year fold father, who started the family business.
"My father, an Armenian immigrant who faced immense hardship, came to America with a dream and just a few dollars in his pocket," said Badalian. "They told him he was nuts because he bought a piece of property across the street from a carnival."
"We – my brother and sister – as a family have dedicated ourselves to these hotels, working in various roles and ensuring their daily operations," said Badalian. "Our children are also a part of our team, starting in housekeeping and following in our footsteps. We deeply value our team members and the way of life they enjoy with our family."
Members of the family that owns the 42-room Alpine Inn talked about how the UNITE-HERE initiative would batter their small hotel.
"Our family's journey began over 45 years ago when my grandfather, Bill Lee, first immigrated to the US with no prior hotel experience but a strong determination to provide a better life for his loved ones," said Derrick Lee. "Today, we have grown into a third-generation family business."
Judy Pao, another family member, said the wage hike and work limits "sound good in theory" but will "create a lose-lose for everyone" by making Resort hotels more expensive than competing properties in neighboring Garden Grove and Buena Park.
"Not only will we feel the impact, but our hard-working employees will suffer too.," warned Pao. "Less revenue and fewer guests will mean reduced working hours and possible layoffs, even affecting their benefits."
"This ballot measure will destroy a small business like ours, primarily due to the proposed $25 minimum wage and the regulations restricting the number of rooms serviced by housekeepers," said Lee from the Alpine.
Lee asked the city to "conduct a thorough economic analysis on how it will affect businesses large and small" as well as "conventions, layoffs, city funds, and whether it will lead to increased prices."
"This mom and pop business has given me the opportunity to grow within the company," said Erika Gomez of the Cortona Inn and Suites, who started eight years ago as a front desk clerk and is now the general manager of the independently-owned, 127-room hotel.
"The majority of our staff has been with the property for more than 10 to 15 years. We are proud of our family culture and the loyalty we have with each other. I treat my team members like a family and we do the best that we can to take care of them," said Gomez. "We provide medical and dental benefits, 401k matching, paid vacations and other benefits and incentives."
"We pay competitive wages and we are a big believer that every deserving team member is entitled to a fair and competitive wage," said Gomez, who noted that the Cortona already provides "panic buttons" for employees, as well as a confidential process for employees to communicate grievances or problems to management.
"However, the workload rules and the minimum wage increases proposed in this ordinance will result in layoffs and increased costs," Gomez told the council, threatening the hotel's viability.
Class Warfare Rhetoric From UNITE-HERE Boss
UNITE-HERE Local 11 co-president Ada Briceno appeared caught off guard by the coalition of independent, family-owned hotels who took a page from the union's playbook by showing up early, filling the council chamber by the time Briceno's union troops arrived.
Briceno responded with a dose of class envy rhetoric.
"More than 100 of our workers are outside and it's very typical in the City of Anaheim for the workers to be in the outside and the hoteliers to be in the inside," inveighed Briceno.
"I'm not here to speak to about people who have generational wealth. I'm here to speak about the economic engine of the city, which are the workers," opined Briceno – who entered the chamber wearing an expensive black YSL handbag – after listening to testimonial after testimonial from families whose father or grandfathers immigrated to the US with nothing and built successful hotels through hard work and fair treatment of their employees.
Briceno contemptuous attitude toward these ongoing immigrant success stories drew the ire of Anthony Badalian, whose family owns the Tropicana and Camelot hotels.
"I'm here to stand beside my [grandfather and father] and the other hotel owners here to discuss this disaster [the UNITE-HERE initiative]," said Badalian.
"I started working at the hotel when I was 15 and a half. I would go to school, work my tail off, study hard, then come to work to learn how hard it was. I started working in the engineering department alongside my other colleagues, changing light bulbs, plumbing toilets, taking towels for the rooms. You name it, I've done it," said Badalian.
"I've worked hard. My family has also worked hard and when I hear about 'generational wealth' – as if it fell off a tree and somebody just picked it up – when all these hotel owners out here worked hard for their money, to create a business to supply jobs and create an American Dream for people. Man, it irks me very, very much," said Badalian.
"My family has taught me and my brothers how to respect and show compassion for the ladies and gentlemen who work in the hotels and the engineering and housekeeping departments. That's why our employee [retention] is through the roof. That's why they're able to go home and enjoy a nice meal with their families and be able to have a sustainable life," Badalian told the council.
Hotel Workers Complaining About Work Conditions All From Unionized Hotels
Several hotel workers came to the podium to complain about the working conditions and expectations at the hotels where they work, and urging the city council to immediately adopt the UNITE-HERE initiative as a city ordinance.
All these workers were UNITE-HERE members who worked at unionized hotels.
This was not lost on Councilman Steve Faessel.
"There are only five hotels in Anaheim currently, out of the more than 120, that are covered by collective bargaining," said Faessel. "There were 10 speakers tonight that all work for union hotels who we're just saying how bad their working conditions were. In fact, one used the word 'slavery' – and I'm wondering, okay, if indeed their union hotels, which are already subject to collective bargaining, are still slavery, then there's a lot of work that we have to do."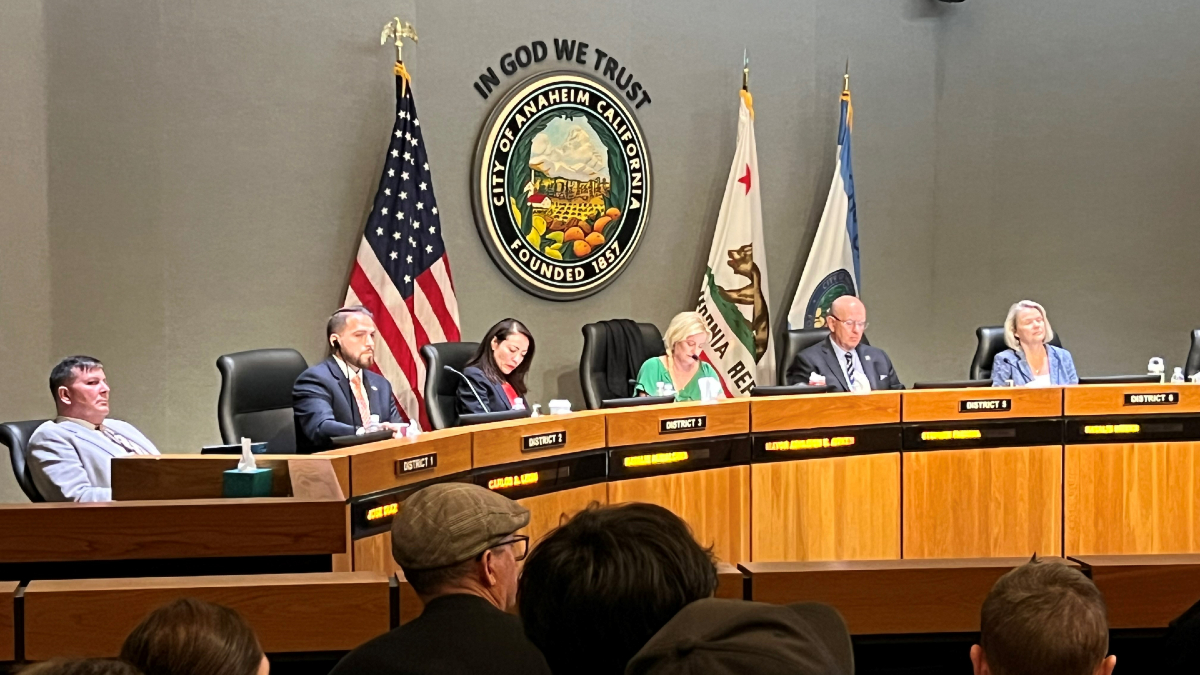 UNITE-HERE Opposes, Hotels Support Council Adoption of "Panic Button" Hotel Worker Safety Ordinance
The city council also adopted an ordinance, sponsored by Mayor Pro Tem Natalie Rubalcava, requiring hotels to equip housekeepers with personal security devices – often referred to as "panic buttons." The move was supported by Anaheim hoteliers, many of whom have already equipped their staff with such devices.
This produced the strangest sight of the night: hotel union leaders opposing a hotel worker safety measure after spending months talking about the need to protect hotel worker safety.
"To be clear," UNITE-HERE co-president Ada Briceno told the city council. "We're asking the mayor and city council not to support Item 18 and to ultimately vote no on the Hotel Worker Safety Protection Ordinance," Briceno told the council.
Several Local 11 union staffers and members trooped to the podium and repeat Briceno's call to vote down the "panic button" requirement – including senior organizer Austin Lynch, who also demanded the council put their initiative on the November 2024 ballot.
In other words, after months of claiming that a panic button requirement is imperative now to keep hotel housekeepers safe, the hotel workers union turned on a dime and decided it was OK to leave them unprotected until at least November 2024.
The "panic button" mandate is the vote-getting provision of the UNITE-HERE initiative. The union's campaign strategy was to sell it as a measure to keep hotel maids safe from sexual assault, with the less sellable $25 minimum wage hike and onerous work rules flying toward enactment under the voters' radar.
Rubalcava's proposal to immediately enact a "panic button" requirement as a separate measure caught UNITE-HERE flat-footed. In what a number of observers consider a damaging PR mistake, Briceno opted to put her hotel workers union on record opposing making hotel workers safer.