For years, UNITE-HERE Local 11 has been publicly inflating its membership numbers by 63% above what it is reporting to the U.S. Department of Labor in mandatory annual disclosures.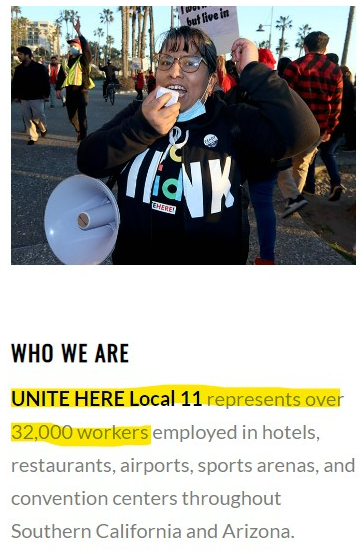 Throughout Local 11's website and communications, the union claims to represent 32,000 workers – a claim that is then repeated in news stories.
However, that isn't what Local 11 is telling the federal government.
Every year, labor union locals must file an annual report known as an LM-2 with the U.S. Department of Labor (with the exception of unions representing solely state, county, or municipal employees). These reports disclose locals' membership rolls, payroll, revenues and expenditures, liabilities and assets, and other financial and operations information.
was filed in March of this year, covering the calendar year 2022. According to that report, Local 11's membership is actually only 20,394.
And that number includes 4,593 "pending status members."
UNITE-HERE Local 11 has 1,735 "agency fee payers" – employees who work in a closed "union shop" hotel organized by a bargaining unit, but who are not actually members of the union.

Based on a review of UNITE-HERE Local 11's past LM-2s, their claim to represent 32,000 members stems from their immediately pre-pandemic membership levels. At the end of 2019, Local 11 reported
to the US Labor Department that it had 28,649 active and pending members.
Only by lumping in 3,200 agency fee payers did Local 11 achieve "approximately 32,000" which is still deceptive, as agency fee payers are not union members.
READ: Editorial: UNITE-HERE's Anaheim Ballot Initiative Is A Tacit Admission Of Its Failure As A Union
Local 11's membership numbers obviously took a beating during the COVID-19 pandemic closures ordered by Government Newsom. During 2020, it's membership hovered around 8,000 workers.
However, Local 11's membership has recovered much more slowly compared to the other California-based UNITE-HERE chapters, Locals 2 and 30 – which are already back at pre-pandemic levels.
UNITE-HERE is currently pushing an LA-style ballot initiative that would impose a huge wage hike and onerous and expensive work rules on every hotel and event center in Anaheim – but with an escape hatch for those with collective bargaining agreements that grant waivers to those provisions. The measure is widely seen as an effort by Local 11 to boost its sagging membership by leveraging hotels and event centers into unionizing.
Local 11 did not respond to a request for comment on why it is publicly claiming inflated membership numbers.